Importing & Exporting
Within the Guru Maps app, you can easily share essential information such as GPS tracks, markers, routes, or even specific map datasets, allowing users to customise their maps.
Importing GPS files​
You can easily bring external data into the Guru Maps app by importing the following types of GPS files to view them on the map:
.gpx, .kml, .kmz, .tcx, .wpt, .plt, .geojson.
примечание
Guru Maps app doesn't support polygon tags in GPS files. We recommend to convert such files to .GeoJSON format to display all the required data on the map.
How to import:​
Locate the GPS file you wish to import on your device. For example, you can find it in the Files app on iOS or in the File Manager on Android.
Choose the file and tap the share button.
Choose to open the app with Guru Maps app from the menu that appears, or choose Send to Guru Maps option. This will initiate the file import process.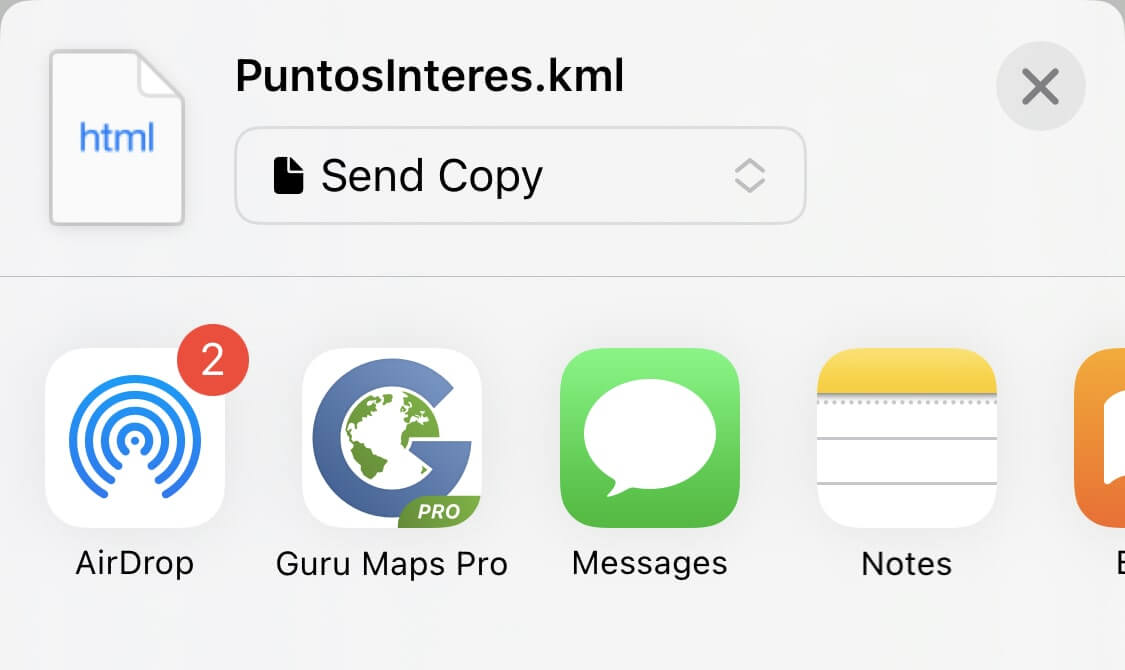 When importing a GPS file into the Guru Maps app, you may encounter situations where the file contains multiple folders. In such cases, the app will prompt you with options to handle these folders during the import process. You will have the following choices:
Keep several collections: selecting this option will preserve the original folder structure of the GPS file upon import. Each folder will be imported as a separate collection within the Guru Maps app.
Save to one collection: choosing this option will merge all the folders from the GPS file into a single collection within the Guru Maps app. This consolidates the data from multiple folders into one, simplifying the organization and navigation of the imported data.
Exporting GPS files​
Guru allows you to export any of you routing geodata, markers, tracks or whole collections to KML/GPX files in several ways.
1. Save as KML/GPX/CSV file​
When you need to save your Guru Maps geodata or to transfer it to another app installed on your device:
Tap the icon on the details screen:

Select the file format that you want to export data to:

Select the app you want to copy your data:
2. Share URL​
To enable others to easily view a preview of your geodata on the map in their web browser, follow these steps:
Access the details screen and locate the sharing icon.
Choose the Share URL. This will generate the link in the following format:
https://shared.gurumaps.app/75811b91-666c-43e3-be5a-97a465c4481b.html
Additionally, on the page, you will find an option to download a copy of this data in KML, GPX, or GeoJSON file format.