If you're a frequent user of the Guru Maps app and want to unlock its full potential, the Pro version is definitely worth checking out.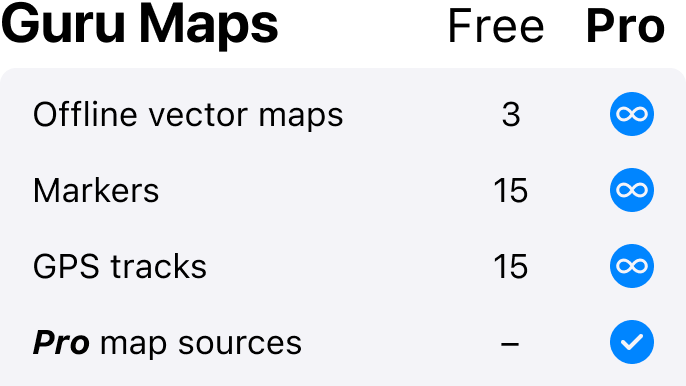 The biggest difference between Free and Pro is that with Pro you can download unlimited number of maps for offline use, including the navigation and topographic data. This gives you a more realistic view of the terrain, that is especially useful when traveling overland with limited Internet access.
The Pro version enables users to save an unlimited number of markers on the map and record as many GPS tracks as you wish, whereas the free version is limited to only 15.
In the Pro version, in addition to the pre-installed online map sources, there are even more sources available to choose from: OpenCycleMap, HERE Hybrid (satellite), Mobile Atlas, Transport, Landscape, Neighbourhood and Outdoors maps.
Overall, the Pro version of Guru Maps offers a wide range of additional features and functionality that can make your navigation and travel planning easier and more enjoyable.
There are several ways to get pro-features:
Purchase Guru Maps Pro app from the App Store or Google Play store.
Subscribe monthly or annually within the free Guru Maps app.
Make one-time purchase within the free Guru Maps app.
Purchase the Universal License for your Guru Maps account to get pro-features for all operating systems.
note
There is no difference between the paid Guru Maps Pro app and free Guru Maps app with subscription or pro-license bought as in-app purchase.
All these provide full access to pro-features and have everything you need to explore the world like a pro.